I have always taken thanksgiving preparation for granted. I would come home assuming there would be food for me to pig out on, and then spend the rest of the day lounging about on the couch talking to my sisters while the boys watched tv. So this year I decided to give my mom a break and give cooking a try. Chris wasnt nervous because my cooking skills have improved dramatically in the last 2 years of marriage but I was still nervous. It seemed to be such a daunting task. So I made a plan:
1. Go grocery shopping as SOON as I got there on tuesday.
2. Brine turkey over night so it is ready for the next day.
3. Make Becca in charge of the rolls. I feel like homemade rolls are a thanksgiving all by themselves and Beccas are to die for. Win-win.
4. Wake up thanksgiving morning and get to work. Chop all veggies in preparation. Make all sides ready for the oven. Cut potatoes and soak in water ready to boil for mash. Make deserts before hand so I dont have to worry about anything after dinner.
5. Set and decorate table. I used my nieces help for that. We made a turkey for each person by tracing her hand and decorating it like so: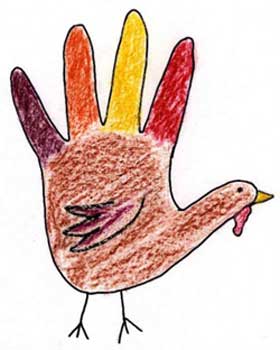 All in all it was far less stressful than I imagined. And my siblings all pitched in to get the job done. David cut up the squash into cubes which is actually MUCH harder than I expected. Matt took out trash about 6 times haha. Emily helped me clean the turkey.... yikes... and Marie entertained Lolli.
I made a turkey, a ham, mash potato, (I made my mom make the gravy since hers is GOOD), cornbread and sausage stuffing, green been casserole, carmelized butternut squash, and pumpkin mousse. My mom had a TON of sweet potatoes but nobody wanted them the traditional way so I made sweet potato fries and chicken burgers the day before. I think that really got me in the mood to pig out. YUMM.
I think you really have to have 2 ovens to pull it off (my mom does and it still seemed like we needed another). I will keep that in mind for my future home. And I think that next year I will make cheesecake instead... I was craving it all weekend. What is a good pig out without cheesecake??